Dibber International School (DIS) profile
Meet teachers at DIS
In this short clip you will meet teachers at Dibber International School in Helsingborg.
Our vision – We make the world's most important values ​​grow.
A stable and humane society is based on knowledge and continuous growth. The knowledge and understanding students bring with them from their school leaves new imprints on the world. Through Dibber International School, we want to be an international school where our students can grow as people and world citizens. A school that lays the foundation for lifelong learning with great emphasis on both academic and aesthetic subjects and where modern technology and multilingualism are a matter of course. When there is synergy between thoughts and emotions, a person develops, and learning is maximized.
Our pedagogy is based on four pillars
1. An interaction between LGR 11 and IB
We follow the Swedish National Curriculum LGR 11 and we have also adopted the IB (International Baccalaureate) framework. IB's pedagogy is based on research and aims to develop critical thinking, problem solving, collaboration, communication and innovation skills.
Dibber International schools are Candidate Schools* for the IB PYP and MYP program. This schools are pursuing authorization as IB World Schools. These are schools that share a common philosophy—a commitment to high quality, challenging, international education that DISS believes is important for our students.
*Only schools authorized by the IB Organization can offer any of its four academic programmes: the Primary Years Programme (PYP), the Middle Years Programme (MYP), the Diploma Programme, or the Career-related Programme (CP). Candidate status gives no guarantee that authorization will be granted. For further information about the IB and its programmes, visit http://www.ibo.org.
For further detail please refer to the Rules for use of IB Intellectual Property.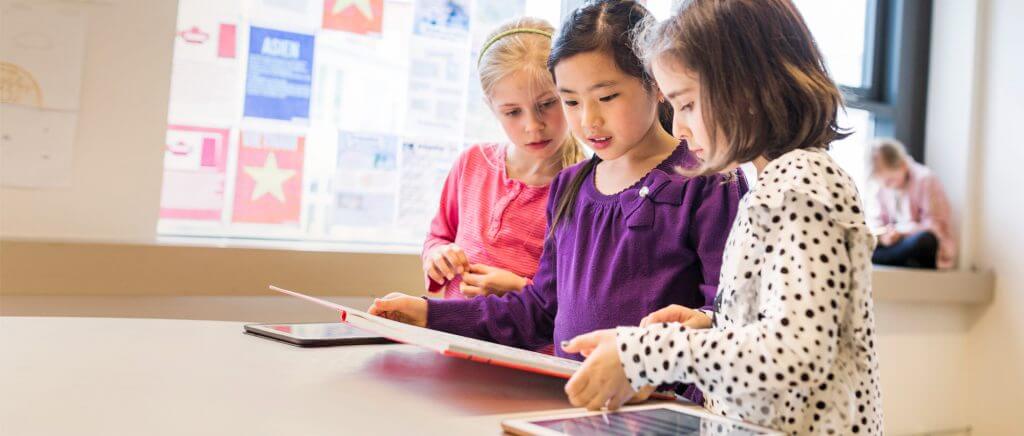 2. Bilingualism
We teach in both English and Swedish. When we introduce English, it happens gradually and at a pace that suits the students. Swedish has a prominent place with us in all subjects, we train the students to switch between the languages. Students can then choose whether they want to continue their higher studies in Swedish or English, in Sweden or at an IB school abroad.
3. Academic and aesthetic subjects
We have a holistic view of people. When a child's creativity and fine motor skills interact, the child's desire, participation, perseverance, concentration excels. Due to this, the academic and aesthetic learning processes support each other. Take a closer look at your local school how they work with the aesthetic subjects and if they have increased teaching and learning to promote the aesthetic subjects.
4. Technology and innovation
Dibber International School wants to make students ready for the future, hence we place importance on innovation and digital technology. Technology should contribute to improving society. We are facing major global issues which will need to be resolved which makes digital literacy and innovative thinking skills critical for our children. This places utmost importance on our ability to provide all students with sound tech skills.
Aesthetic subjects
Music has a positive effect on learning and makes us happier! (in Swedish)
Grading and grades
Similar to Swedish curriculum, MYP* has a grading system. The MYP process of grading, although similar has some distinctions from Swedish lgr11 worth pointing point.
Each of the MYP subjects are sub-divided into four criteria. The criteria identify the key skills and understandings required within a given subject area. Each of the criteria are graded individually on a 1-8 scale.
During the next academic year, 2021-2022, MYP 1-3 (grades 6-8) will begin receiving grades according to both the Lgr11 and MYP. It is a requirement to use the MYP assessment process in order to become an authorized IB world school.
The PYP** assessment structure is similar to the Swedish school system.
If you are interested to start at DISS, you will receive more information about how the grading scale works and what that means for MYP students.
* MYP stands for "middle years program" (grades 6-9)
** PYP stands for "primary years program" (grades F-5)

Our schools
We have three Dibber International Schools in the Municipalities of Sollentuna, Helsingborg and Nacka (Älta). Visit them by following the links below.